At present replacing existing inefficient incandescent light bulbs with CFL bulbs is the best way to reducing wastage of electricity, and to save money. However, recent developments in LED technology have brought the day closer when LED light bulbs will be cheap and efficient enough to make them common in homes and offices. They are already the best energy efficient option for spotlights offering longevity, reliability, and financial benefits, and they do not contain the mercury found in CFL's (see Toxic Mercury in CFL Bulbs.)
LED Light Bulbs
LED's are very cheap to manufacture, are very efficient, and typically last for around 50,000 to 100,000 hours (5-10 years continuous use) which is far in excess of CFL and incandescent light bulbs. However LED bulbs suffer from one major disadvantage: Each individual LED sends light out in a very straight line whereas an incandescent or CFL bulb sends light out equally in all directions.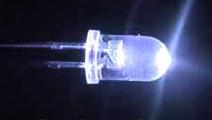 Therefore an LED bulb must be made up of a large number of individual LEDs pointing in different directions; and even then, they are still only really suitable for directional (spot)lights and for mood lighting (rather than for full room general lighting) – i.e. they work best as spotlights over kitchen work surfaces or a desk, but will not light a living room adequately.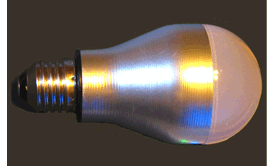 When this article was first published in the middle of 2006 we expected engineers to soon come up with an affordable LED-based direct replacement for the standard 60W incandescent light bulb (bayonet or Edison screw fitting). Unfortunately, at the time of revising this article (April 2009) we are still not there.
Our article Pharox 240V LED Lightbulb published in early 2007 discussed a 3.4W unit designed to replace a 40W incandescent. That bulb (pictured above in its original form) has now been updated and improved, but still uses just 4 Watts of electricity. It is available with standard E26, E27, and B22 bases, and should last 50,000 hours – BUT they cost around £30 each! Keep checking our page on the Pharox Lightbulb for the latest information.
240 Volt LED Spotlight Bulbs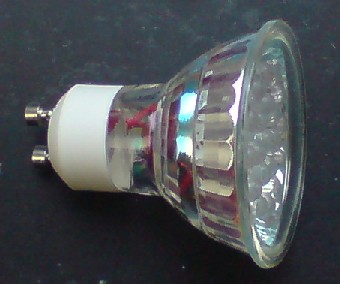 240V LED spotlights can be used to replace existing halogen spotlights and downlighters with fantastic energy savings (as direct replacements for standard GU10 based bulbs). A 25 Watt halogen spotlight for example can be replaced with a 2 Watt LED spot light bulb saving electricity and also running far cooler than its halogen equivalent. The LED spotlight bulb will also last many times longer than the halogen bulb which will make up for the initial extra expense.
Note that LED spotlight bulbs can typically NOT be used with dimmer circuits. Attempting to use a dimmer with an LED bulb will considerably shorten its life – i.e. to 10 minutes instead of 10 years.
The Colour of 240V White LED Spotlights
The light from LED spotlights is very different from the warm colour provided by the halogen bulbs that they are designed to replace. It is either very white, or white with quite a strong bluish tinge (particularly with the cheaper quality white LED spotlight bulbs) which can take a little getting used to.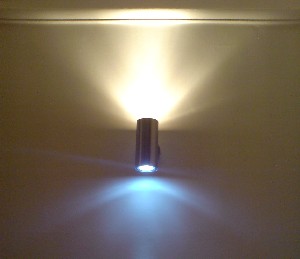 The image above shows an experiment comparing the light from a 240V 50W halogen spotlight costing £1 (light shining upwards) with that from a cheap (and nasty) 240V GU10 1 Watt 15 LED spotlight bulb which cost £4 inc VAT plus delivery at the start of 2007 (light pointing downwards).
11th April 2009 Update The LED spotlight pictured above has now been running now for 28 months for 12+ hours per day = 10,000+ hours with no sign of dimming or failing, so at least it has proved to be reliable if a little on the blue side!
Buy 240V LED Lightbulbs and Spotlights
We recommend that you purchase your LED Spotlights from eBay. Click here to search for the latest listings for GU10 LED.
For purchasing information for the Pharox bulbs, click here: Pharox Lightbulbs.