The SolarMate 0.5 is a solar powered remote controlled utility light. It is a complete system including a solar panel, lamp, battery storage, remote control, and all necessary wall fixings.
On first impressions everything is well made, weighty, solid and sturdy. A one A4 sized printed sheet is provided as the User Guide. This contains all the necessary information in good detail, and is sufficiently (but minimally) illustrated to make everything clear and understandable. Getting everything installed and operational took under 20 minutes from start to finish.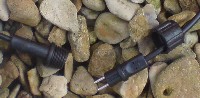 The solar panel is connected to the light unit with a simple plug and socket arrangement, and a cap is then screwed over the connection making it secure. 1.8 metres (6 feet) of cable is provided.
Battery Storage
Electricity generated by the solar panel is stored by 3 AA NiMH rechargeable cells with capacities of 900mAh. This is quite a low capacity, but they can easily be replaced with much larger capacity equivalents – e.g. these 2,900mAh AA NiMH cells from the REUK shop if required at a later date.
If you intend to use the light infrequently, but for long periods of time, using large capacity batteries is the best solution. The solar panel then has the necessary time to get everything charged up fully before uses.
Before using the light (other than doing a quick test to ensure it works) you must charge the batteries fully. The instructions recommend leaving the solar panel connected and light off for four days to enable this to take place. An alternative – which we chose – is to remove the batteries from the light unit and charge them up using a plug-in fast battery charger – however as there are three (rather than two or four) batteries this is not possible with most chargers.
The Solar Panel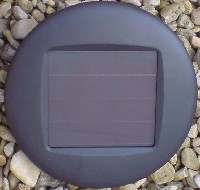 The amorphous solar panel is quite small at approximately 85 x 95mm and has an open circuit voltage of 6 Volts. In order to boost the charging power of this system if it is to be used frequently and for extended periods, a second 6V solar panel could be added (in parallel to the first) at the same time as upgrading the batteries.
The Light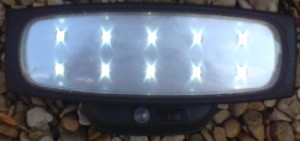 The lamp consists of ten ultrabright white LED bulbs set into a reflector. The overall light output is quite impressive – nothing amazing, but certainly enough to illuminate a shed (or even a small garage) used for general storage. There is not sufficient light to work by or read with comfortably for more than a few minutes, but that is not really what this product is aimed for. If you need to step into your shed or garage at night in order to search for a tool or something, then this is perfect, and thanks to the solar panel will always be there working reliably with no maintenance other than replacing the rechargeable batteries every few years.
The light draws 80mA of current when powered with batteries fully charged which corresponds to approximately 0.3 Watts power (Ohm's Law). As the battery charge decreases over time, the current drawn by the light also falls and so the light gets dimmer and dimmer rather than rapidly reaching a point at which it turns completely off. The light will therefore operate for many hours slowly getting dimmer over time, but the light is only usefully bright for around 4 hours (starting with the installed low-capacity batteries fully charged).
The position of the light can be adjusted easily through approximately 60-70 degrees so that it can be aimed exactly where light is most needed.
Remote Control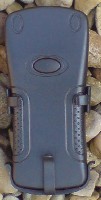 The remote control unit is quite a useful feature since it allows the light unit to be fixed in a higher location than would otherwise be possible. An operating range of "up to 5 metres" is claimed, but we found just over 3 metres to be more realistic. One thing we did note is that you need to aim the remote control very accurately in the direction of the sensor on the light unit – you cannot just point it in the general direction of the light unit and expect it to turn the light on/off.
The remote control is supplied with a bracket which can be screwed to the wall. This holds the remote control safely so that you can find it easily (in the dark most probably).
Conclusions
SolarMate 0.5 is priced in the UK from just £20 and is therefore a pretty unbeatable package. Everything works as it should, and should last well, the weak point being the solar panel which is exposed to the elements outside, but which could be replaced in 5-10 years if necessary. The supplied 2 year warranty should give some peace of mind that the solar panel (and other components) will survive more than two winter seasons at least.
Solar Shed Lighting
For more information on solar powered Shed and Garage Lighting click here.