Pictured below is a custom controller we recently made based around our 2014 Solar Water Heating Pump Controller with LCD.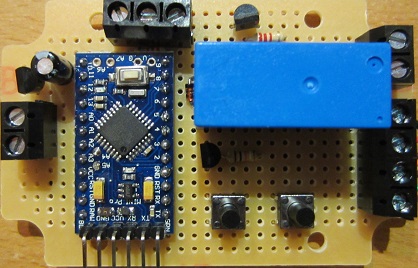 This device is designed to be used with a solar air heating system. There is one waterproof temperature sensor to detect the temperature within the solar air heating panel, with the second sensor mounted directly to the circuit board to measure ambient internal temperature.
Instead of the usual 1 Amp rated output for connection to a relay, this board has a relay fitted directly to it to directly switch the power to a 250 cfm fan which drives hot air from the solar collector into the house.
As with the standard 2014 solar pump controller, this device has an LCD display to show the temperature of the solar collector and (in this case) the ambient air temperature and system status information, as well as enabling temperature differentials to be set at which the fan will be turned on and then turned off and to control a manual override.
If you need a controller similar to this, please email neil@reuk.co.uk with details of your exact requirements.