The PowerMonkey (pictured below) is a universal charger for all mobile phones, PDA's, and iPods. Designed to be used by people on the move, the PowerMonkey holds a 2,200mAh battery which can be charged using the a supplied mains adapter. When fully charged the manufacturers claim it can power an iPod for 40 hours, a mobile phone for 96 hours, a digital camera for 1,600 pictures, a PDA for 48 hours etc.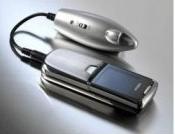 * You can buy the mains-charged Power Monkey traveller package pictured above from just £22.49. Click to find out more.
PowerMonkey-Explorer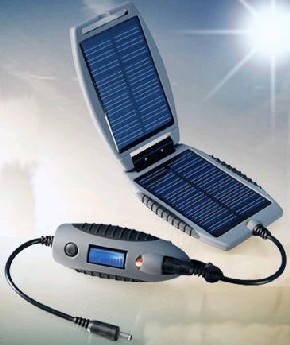 The newest PowerMonkey on the market is the PowerMonkey-Explorer. This device offers all the benefits of the original PowerMonkey – for example 10 different mobile phone charger attachments and a mains adapters for 150 different countries, but it can also be charged via the supplied 1 Watt (5V 200mA) PV Solar Panel. This solar panel weighs in at just 82g and is just 110 x 70 x 10mm when folded.
The PowerMonkey-Explorer has a larger capacity battery and a similar performance solar panel to the popular Solio Solar Charger and is typically priced at around £60 in the UK.
Buying a PowerMonkey Explorer in the UK
The PowerMonkey-Explorer has only just come onto the market (mid-July 2007) and so is only available for sale in a small selection of outdoor, camping, and travelling equipment retailers, as well as selected websites.
NEW The PowerMonkey-Explorer is currently best priced in the UK at £59.99 . Click here for more information and to buy your PowerMonkey-Explorer.
DIY Alternative
The PowerMonkey is very expensive although it is robust, waterproof, well designed and well manufactured .
If the price is too steep, then you can improve on the battery capacity of a Solio Solar Charger or a PowerMonkey-Explorer using a 6V 250mA (1.5 Watt) waterproof solar panel, 4 2,700 mAh rechargeable AA batteries, a 4 AA battery holder and by cannibalising the necessary connectors for the devices you wish to charge – for example, by buying an old Nokia charger if you have a Nokia phone and cutting off the lead and adapter to connect to your solar-charged batteries.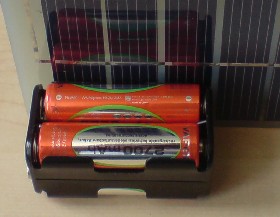 The total cost would be as little as £20 for this DIY model. Solar panels, rechargeable batteries, battery holders, wires and much more can be found in the REUK Shop.
More information on solar battery charging can be found in the following REUK articles: Solar Battery Charging, and Basic 4 AA Solar Battery Charger Plans.
More PowerMonkey-Explorer Information
The PowerMonkey-Explorer Specification Sheet (PDF) can be downloaded here together with the PowerMonkey Explorer User Manual (PDF).
The official PowerMonkey Explorer website is http://www.powermonkey-explorer.com with the UK PowerMonkey website to be found at http://www.powermonkey.co.uk.