The Solio Solar Charger (pictured below) is a pocket-sized charger for iPods, mobile phones, digital cameras, pocket PCs, and USB-powered 5V devices.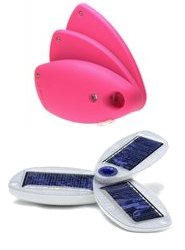 Manufactured by Better Energy Systems, the Solio folds out into a fan of three small solar panels providing just under 1 Watt of power (155 mA at 6 Volts). A suction cup is provided enabling the Solio to be stuck inside a car windscreen or other window for charging.
NEW This standard Solio has now been rebranded as Solio Classic with the addition of the new Solio Magnesium Edition to the range.
Solio Internal Battery
Inside Solio (Classic) is a rechargeable battery (3.6 V 1,600 mAh lithium-ion) which can be charged via the supplied mains-power adapter in under six hours when you are away from the sunshine – at night or when it is very cloudy. This battery is also charged whenever the Solio is in sunlight ensuring that constant portable power is available even when a heavy cloud covers the sun, or if power is required indoors. Around 10 hours of direct sunlight is sufficient to fully charge the battery.
When fully charged the Solio internal battery will recharge an iPod Nano or typical mobile phone at least twice. An iPod will get around 9 hours of playtime from a full charge.
Rated output is from 4-12 Volts and 0-1 Amps of current. When closed the Solio charger is just 120mm x 65mm x 34mm and weighs 165 grams.
Connecting Solio to Different Devices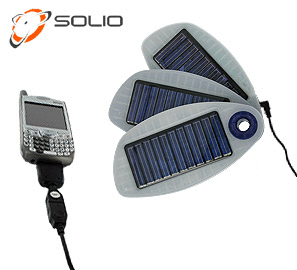 A variety of different attachments are available for connecting the Solio Charger to devices from a wide range of different manufacturers. Pictured below are a selection of five of these attachments for Nokia, Samsung, Sony, HP, and Motorola devices.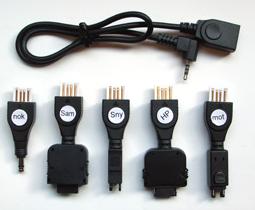 A standard Solio Charger is supplied either with mobile phone tips or an iPod connector. A separate iPod connector can be added later for around £7 to the mobile phone package, or a pack of mobile phone connectors added for around £13 to the iPod package.
The Solio Hybrid Charger package is supplied with six different attachments included two cables (USB for an iPod and a universal cable), and four tips (for Nokia, Motorola, and Samsung mobile phones and a mini-USB tip for bluetooth headsets etc).
Buying a Solio Solar Charger in the UK
NEW The Solio mobile phone and iPod solar charger is currently best priced in the UK at £49.95. Click here for more information and to buy your Solio.
The Solio Solar Charger is available in the USA for around $80.
Making Your Own Solar Charger
Click here to find out how to make your own Solar iPod Charger, or here to find out more about making solar battery chargers for AA and AAA rechargeable batteries for a few pounds.