A few days ago (link to the article) we described our new solar water heating pump controller based around our standard 2013 controller, but fitted with waterproof digital temperature sensors for use in pools, hot-tubs, and so on.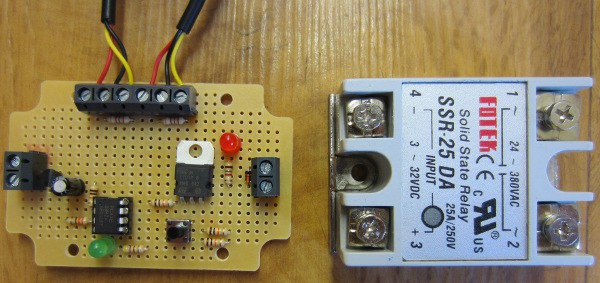 Pictured above is a second version which we subsequently made for a special order which is designed to control an solid state relay (SSR) instead of the usual on board mechanical relay since this was to be used with a large mains powered pump which pushes water from a swimming pool in France around 12 solar water heating panels.
The type of relay pictured has four screw-on terminals. To close the relay you supply <20mA of 3-32VDC to two of the terminals, and that effectively shorts out the other two terminals (though in reality it does not 'short out', it just allows AC voltage of 24-380 VAC to pass internally through it into one terminal and out of the other).
As they are not mechanical, solid state relays tend to last longer, switch faster, and use less power. They do however generate/release some heat, they are more expensive, and this type of external relay needs to be housed in a suitable enclosure as it switches mains electricity.
Click here find out more or buy a solid state relay now. Prices start from around £5 each.