Before spending a lot of money installing a PV solar or wind turbine generating system, it is vital to survey the planned site to ensure that the prevailing weather conditions are suitable. In our article Survey Wind Speed at Turbine Site we looked at how an anemometer with a data logger can be used to collect wind speed and direction data for later analyis. One example product is the LEWL Wind Logger which collects both wind speed and direction data, with the data being downloadable to a PC.
Power Predictor from Better Generation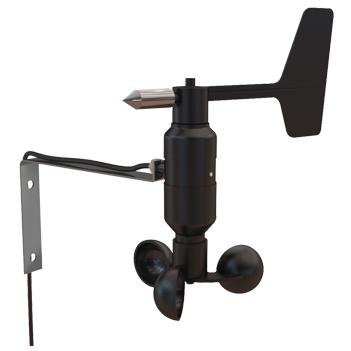 A new product was launched today (June 10th 2009) which not only logs wind speed and direction data, but also counts the number of hours of sunshine. The Power Predictor from Better Generation Ltd includes a solar radiation sensor, wind direction vane, and wind speed measuring anemometer. This is connected via a rugged 5 metre cable to a self-contained waterproof recorder unit with LCD (display) which when powered by a 9 Volt battery will provide up to one year of continuous monitoring. It retails (price last checked on 11th March 2010) at £152.75 (including a twelve month software license for the analysis software on the Power Predictor website).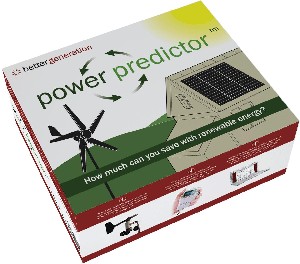 Power Predictor was invented by Toby Hammond, a managing director of Better Generation, and is the result of 2 years of research and development. He said,
"For most people, micro power generation is a step into the unknown. No one should spend thousands of pounds on renewable energy equipment without knowing the payback time based on the amount of energy they could generate at their premises. Our intention has been take the guesswork out of micro generation by creating a device that is not based on modelled data, which is often inaccurate, but on site specific data that shows anyone at home or at work, how much they could save by generating solar or wind energy."
Collected data are written to a removable 512MB memory card which can be read by a PC or Mac via USB (using included USB adapter), and uploaded to the Power Predictor website once you have collected more than 30 days of data. With a constantly updated database of the many solar panels and wind turbines on the market, different generation options can be compared to see which will offer the biggest financial and carbon savings, and the fastest payback periods at the tested site.
The Power Predictor is powered with a 9V (PP3) battery (included) and should last 6 months in normal conditions.
Power Predictor Animation
Click below to view this excellent animation showing exactly what Power Predictor can do:
Buy Power Predictor and More Information
Click here to buy Power Predictor with free UK delivery.
For more information on Power Predictor click here to visit the Better Generation Ltd website.