Make a Waterproof Temperature Probe
Make A Waterproof Temperature Probe
Find out how to make a waterproof temperature probe
electronics
|
heating
|
water
&nbsp
Printer Friendly Version

We include a pair of
LM335Z
temperature sensors with our
solar water heating pump controllers
. They are reliable, relatively inexpensive, and very easy to use, however they do have one disadvantage - they are not at all
waterproof
. One sensor has to be fitted to the side of the hot water tank under the insulation - typically a nice dry area - but it can sometimes be difficult to fit the second sensor to the outlet pipe from the
solar water heating panel
as this is installed outside. In some situations (such as
heating swimming pools
) the temperature sensor must be submerged. Therefore in this article we will look at how a standard temperature sensor can be turned into fully waterproof temperature probe.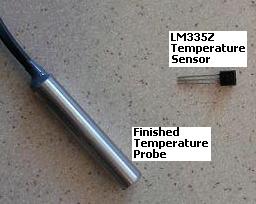 Making a
waterproof temperature
probe is actually quite simple, requires few tools, and the component parts required are inexpensive. In short the temperature sensor must be
soldered
to insulated leads, and the soldered joints protected with
heat shrink tubing
(to prevent short circuits). The sensor is then inserted into a suitably sized
stainless steel tube
or around 50mm length (6mm inside diameter for LM335Z sensors), and filled up with
epoxy potting compound
. The potting compound is impervious to water, the stainless steel tube, will not corrode, and the steel-epoxy combination will transfer heat to the temperature quickly enough for pretty much all
solar
applications. The leads sticking out of the epoxy at one end of the tube can then be connected up as required.
Buy Stainless Steel Tubing and Potting Compound
Stainless steel tube is not a very easy thing to find, but fortunately there are many sellers on
eBay UK
who have it on sale. Click here to search for the latest listings for
Stainless Steel Tube
. Similarly, click here for
Potting Compound
, and here for
Heat Shrink Tubing
.
Recommended Reading
DIY Submersible Temperature Probe
- from Home Brew Talk website.

Article Last Modified: 16:37, 1st Jun 2009
Comment on this Article
If you have any comments on this article, please email them to
neil@reuk.co.uk
.
---
Recommended Related Articles
People who read this article also enjoyed the following articles:
Solar Battery Charger With LM317T
Find out how to make a current controlled solar battery charger using an LM317T
Article Last Modified: 09:34, 30th Mar 2007
solar
|
education
|
electric circuit
Control Mains Powered Devices with Low Voltage
Switch mains powered devices on and off safely and simply with low voltages
Article Last Modified: 13:07, 3rd Aug 2009
general
|
education
|
electric circuit
|
electronics
240V LED Bulbs and Dimmer Switches
Find out more about 240V AC LED bulbs and dimmer switches
Article Last Modified: 16:12, 16th Jul 2007
lighting
Low Voltage Battery Disconnect Circuits
Find out more about low voltage battery disconnect (LVD) circuits - used to protect batteries
Article Last Modified: 12:47, 31st Mar 2012
electric circuit
|
electronics
|
storage
Solar Water Heating Swimming Pools
Build a solar powered water heating system for a swimming pool
Article Last Modified: 10:06, 8th Oct 2012
solar
|
water
|
heating
Cheap Pyroelectric Infrared PIR Detector
Details of a very affordable and flexible PIR motion detector
Article Last Modified: 20:33, 16th Jan 2013
electronics
|
education
|
electric circuit
Using The LM317T With LED Lighting
Use an LM317T to regulate the current in LED lighting projects
Article Last Modified: 12:47, 12th Mar 2008
lighting
|
electric circuit
Freeloader Pico
Buy the new economical Freeloader Pico solar charger
Article Last Modified: 14:05, 17th Aug 2012
solar
|
shopping
|
electronics
Solar Battery Charging
Make a solar charger for NiCd and NiMH rechargeable AA, AAA etc batteries
Article Last Modified: 09:43, 30th Jul 2007
solar
|
education
Solar iPod Charger
Find out how to make a solar powered charger for your iPod
Article Last Modified: 11:00, 20th Jul 2007
solar
|
general