We sell a wide range of types of differential temperature controllers which are primarily used in solar hot water systems. However, with slight modifications, they can also be put to good use in other scenarios.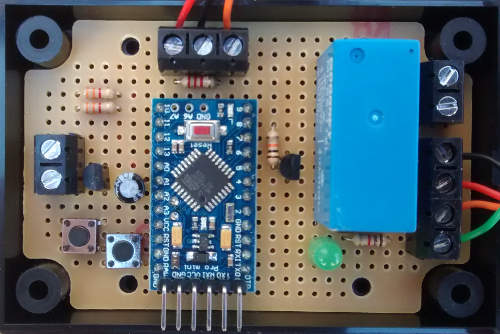 Pictured above is an Arduino Pro Mini based fan controller we made for use in conservatories and other sunny rooms to help to keep the temperature from getting too hot.
This device can be used to turn on an extractor fan when the temperature in the room gets above a user set value, and keep it on until the room temperature has fallen below a second user set value. By dumping excess hot air from the room, the room's temperature can be kept in a comfortable range.

In the photograph of the device's display above, the air temperature is showbn to be measured as 18.2C. The fan (which is currently off) will turn on when the air temperature goes over 25C, and then turn off again when the air temperature falls below 20C.
We have also previously made these types of thermostatic controllers to automatically drive hot air from a sunny conservatory into cooler regions of the house. An insulated conservatory can still get very hot even in the winter months, so sending the hot air to the cooler side of the house is an easy and cheap way to reduce heating bills.