There are many occasions when it would be useful to produce a useable voltage higher than the voltage provided by a battery or other power source. For example, powering a 12V LED spotlight bulb with 4 AA batteries.
We have previously published articles on voltage doublers which increase an AC voltage (a simple circuit to implement), and DC voltage booster which can boost the voltage from 1 or 2 AA batteries up to 5 or 12 Volts (a more complicated circuit).
All of these designs require a certain amount of electronic know how and skill to put together. Fortunately there are commerical alternatives available which can be used a plug and play units ready to go immediately.
MC34063 Based Step Up Voltage Regulator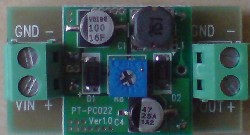 The circuit board pictured above is a Step-Up voltage regulator based around the MC34063 chip. It measures in at just 45 x 25mm and weighs just over 10 grams.
Taking in a recommended input voltage of +5 to +12VDC it will output at least 200mA at a user-selectable +7 to +24VDC. Ideally the input voltage should be at least 2V below the desired output voltage. Connections are made via easy to use screw in terminals.
If the load attempts to draw more than 200mA, or if the input power supply is insufficient to provide the necessary output power (for example, when the battery is flat), the voltage output will fall below the desired voltage.
NEW This step up voltage regulator is now available on sale in the REUK Shop. Click here to purchase this 200mA Step Up Voltage Regulator now.
Uses for a Step Up Voltage Regulator
There are many 9V and 12V powered devices which draw less then 200mA of current and could therefore be powered by a battery holder containing just four easy to obtain AA batteries.
Rechargeable AA batteries are very cheaply available, have very high capacities, and are the first to benefit from new technical advances. Therefore, 4 rechargeable AA batteries can easily be charged with a 6V Solar Panel and used to power a 9 Volt DC rated device (such as a wireless spy-cam) with a far longer battery lifetime than using a rechargeable (or disposable) 9 Volt battery.
Similarly, this type of step-up device can be used to power 12 Volt rated LED lighting in a garden shed or garage where it is used occasionally, thereby avoiding the expense of a large, heavy, and difficult to maintain deep cycle lead acid 12V battery.
This circuit can even be used with very small stepper motor wind turbines (and similar mini turbines) to boost generated low voltages up to the level necessary to recharge a battery with a much higher voltage.
Technical Information

The MC34063 is a DC DC Converter which can be used to step-up or step-down a voltage. Click here to view the MC34062 Datasheet (PDF).