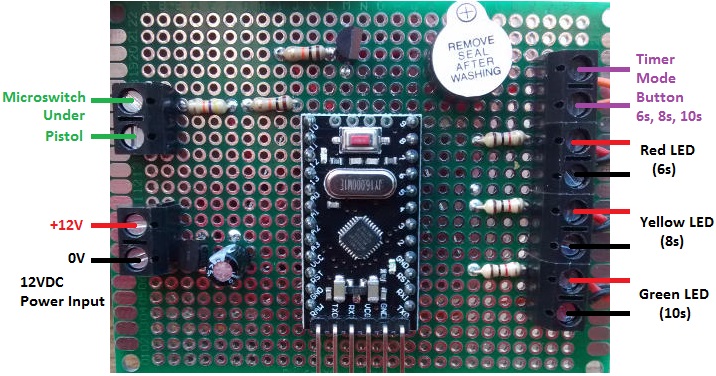 Pictured above is a timer we recently made for use in competitive pistol shooting training. There is a microswitch under a flat plate on which the pistol lies. When the shooter picks up the pistol, the timer starts counting down a user set value of either 6, 8, or 10 seconds after which a buzzer sounds briefly telling the shooter to replace the pistol. The duration of the timer is set using a button to step through the three possible options, with an LED (red, yellow, or green) illuminated to show the currently selection option. This will all be fitted inside an enclosure with the microswitch connected through the circuit board, and the LEDs and timer mode selection button mounted in the lid of the enclosure.
This timer is built around an Arduino Pro Mini board and uses its internal clock for timings as it is accurate enough over such short timing intervals (+/-1 millisecond or better over 10 seconds) when considered in conjunction with the time it takes the microswitch to open/close, or sound to actually start to emit from a buzzer when it is first powered.
If you need any kind of special timer, please email neil@reuk.co.uk with details of your specific requirements.