Pictured below is the connection diagram for a new solar water heating pump controller we designed and built recently for use with a swimming pool heating system.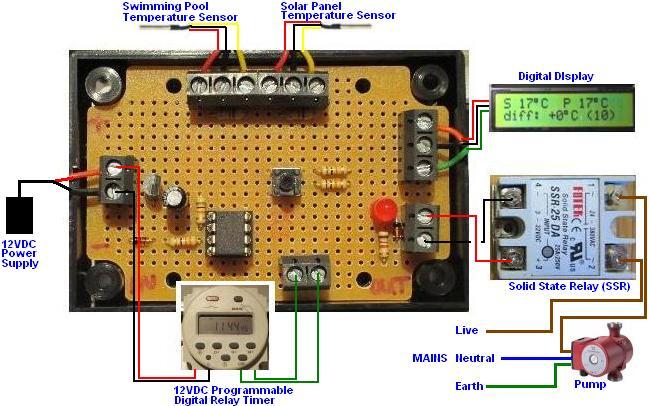 This controller is the next step up from the solar water heating pump controller with solid state relay discussed previously. It has the same ds18b20 waterproof digital temperature sensors we use in all controllers for swimming pools and similar, but with the addition of an LCD to display measured temperatures and other system status information. (There is also a 12v digital programmable timer override function added as a specific customer request.)

The LCD constantly displays the temperature of the outlet from the solar thermal panel (S) and of the pool (P). It also displays the current measured temperature difference between the solar panel and pool, as well as the temperature difference required for the pump to turn on or off (as programmed by the user).
Having the LCD makes it possible to add a lot more features to this controller on request – for example keeping track of the average temperatures and peak temperatures of the pool and solar panel, tracking for how long each day the pump is running, and many other potential datalogging features.
Email neil@reuk.co.uk if you need a solar water heating pump controller with or without an LCD and datalogging with details of your exact requirements.