A security spotlight is typically made up of two components – a motion detecting PIR sensor and a bright spotlight. When movement is detected within 20 metres of the PIR sensor, the spotlight is automatically turned on for an adjustable length of time – typically from a few seconds to a couple of minutes. This can be very useful for illuminating otherwise dark doorways and driveways to make getting into your home easier and safer, and also for deterring burglars.
Solar Powered Security Spotlights
Most mains-powered spotlights use inefficient halogen bulbs which draw up to 500 Watts of electricity. Solar powered systems almost exclusively use energy efficient LED technology to keep power usage down. This is absolutely essential since a small PV solar panel can only charge a battery so much during the day, and therefore only a limited amount of stored charge is available to power the light(s) at night.
While we sell all of the necessary components to build your own solar-powered security spotlight system (solar panel, LED spotlights, battery holder, PIR sensor, timer circuit etc – see our REUK Shop for details and pricing), integrated commercial products are now available which perform adequately for less than the cost of a (typically more powerful) self built system in most applications.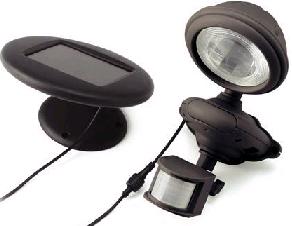 Pictured above is the Solar Mate Secure 1 solar powered PIR motion detector triggered LED spotlight. The solar panel and battery pack provided are identical to those mentioned in our article Shed and Garage Solar Lighting with reference to the Solar Mate 0.5. To this system is added a PIR sensor which has adjustable sensitivity and time (set lights to come on for from 30 seconds to 20 minutes each time motion is detected). The spotlighting unit contains three double-sized LED bulbs which will illluminate an area up to 5 metres away.
This complete and easy to install system is available from Ethical Superstore for just £24.99. Click here find out more or to buy Solar Mate Secure 1 now.
Pictured above is a Solar Twin Light with PIR – priced around £30 in the UK here: Solar Twin PIR. This fully waterproofed product is supplied with a small solar panel, four rechargeable AA batteries, two spotlight units each fitted with nine ultrabright LED bulbs, and all necessary fixtures and fittings. Motion sensor sensitivity, spotlight brightness (0-10 lux), and the length of time the light stays on (5-40 secs) can all be adjusted as required by the user.
The included batteries are NiCD which are bad for the environment and do not have a very high storage capacity. However, after a few years of use, those batteries can be disposed of (following standard disposal conditions for items containing cadmium) and replaced with cleaner, more powerful NiMH batteries.
Pictured below is an alternative (higher quality) system available from Ethical Superstore. This provides two separate LED lamps (each with 5 ultra-bright LEDs) which are turned on for 30 seconds when the built in PIR sensor detects motion. The rechargeable battery pack holds enough charge to light the spotlights 500 times when fully charged, and is charged by a solar panel supplied with 5 metres of cable.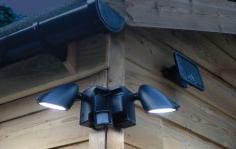 To purchase this product (or to find out more about it) click here: Duo Security Light Twin Spotlights. It is currently priced at £44.99.
Limitations and Benefits of these LED Spotlights
Obviously the amount of light put out by these low voltage LED spotlights is far less than that of typical mains-powered spotlights, but the solar-powered product has the huge advantage of having very simple installation with no need to worry about finding and paying an electrician, or messy wiring.
Note that will all of these systems it would be possible to replace the supplied solar panel with a more powerful unit to increase the amount of charge available at night in locations where the spotlights are triggered frequently.