The new MiniWind range of rugged wind turbines are designed for the domestic market. Developed to cope with extreme conditions, these high quality turbines are built to last, but are very competitively priced.
MiniWind Downwind Wind Turbines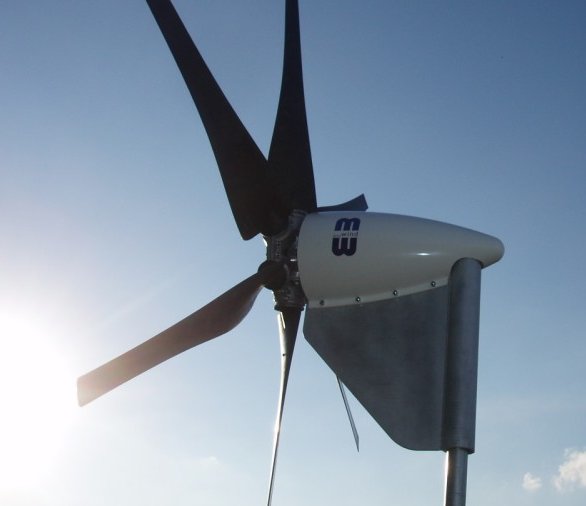 The MiniWind 1100-24 and MiniWind 1100-48 are entry level downwind wind turbine generators. Configured for charging 24V or 48V battery banks, these turbines are suitable for inland and low wind* sites.
The MiniWind 2200 range includes 24V and 48V options for battery bank charging, and a 300V option for use in grid tied systems. The user can adjust the turbine to make it suitable for both low wind and high wind speed sites making it suitable for use in coastal areas. The MiniWind 2200 turbines are ideal for exposed sites with high average wind speeds coping well even in areas with regular gale force winds such as the Western Isles of Scotland.
In addition to generating electricity, the MiniWind 2200 can also be used for wind turbine water heating using a resistive heating load (immersion element).
The MiniWind 1100 and 2200 turbines are supplied with 1.8m diameter six-blade rotors with variable blade angles**. The blades are injection moulded from glass-filled nylon making them enormously strong but lightweight.
A 400Ah battery bank is suggested for these wind turbines, however a smaller battery bank can be used with a suitable wind power charge controller.
* In consistent winds in excess of 15m/s the MiniWind 1100 and MiniWind 2200 wind turbines should be manually disabled.
** Adjusting the blade angle changes the speed of rotation of the turbine. The angle should be set to best match the typical wind strength of a particular location.
MiniWind Accessories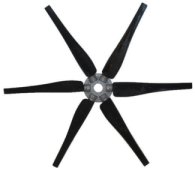 The 1.8 metre diameter wind turbine rotors, blades, and hubs supplied with the MiniWind systems are also available for sale separately, as are 3.0 metre 3-bladed rotors.

The permanent magnet generators used in the MiniWind range are also available in 1100 Watt (9Kg) and 2200 Watt (15Kg) rated units. Supplied with a three-phase 6-wire output, these generators can be wired in Star or Delta* configurations to maximise power generation.
* Click here for an excellent illustration of the connections in Star and Delta Configurations with an explanation of the benefits/disadvantages of each.
Buy a MiniWind Wind Turbine Generator
MiniWind wind turbines are usually available for sale on eBay UK. Click here to search now for the latest MiniWind listings. At the time of writing (Aug 2008) a MiniWind 2200 downwind generator was listed for sale for £1950.00 with free delivery and a 2 year warranty.
More MiniWind Information
The MiniWind range is produced by Renewable Components, the trading name of Gordon Rioch Plastics. They have used their expertise in injection moulded plastics to produce wind turbine components and systems built to last.
To view the power curves for MiniWind 1100 and 2200 wind turbines as well as finding out a lot more information about the use of these turbines in battery charging, grid tie, and water heating systems, click here to view the official MiniWind Product Brochure (9 page PDF).