GutterMate Rainwater Filter and Diverter
GutterMate Rainwater Filter And Diverter
Find out more about Guttermate - a rainwater diverter with a built in filter
water
|
shopping
&nbsp
Printer Friendly Version

Guttermate
is a rainwater filter and diverter product which can be quickly installed enabling the collection and storage of
rainwater
, and easy removal of leaves and other debris from the downpipe.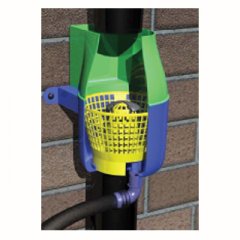 We have previously looked at the benefits of intercepting
rainwater
as it flows through the downpipe on its way from the gutters to the drain. It can easily be collected in a
water butt
and used for
irrigation
of gardens and crops, and also for
flushing toilets
.
Guttermate is not only a
rainwater diverter
(see the basic
rainwater diverter kit
we sell in the
REUK Shop
), but also offers an easy clean downpipe
filter
. With such a filter fitted at just 3-5 ft above ground level, it is much easier to prevent debris from building up in the downpipe causing blockages.
Guttermate Rainwater Filter and Diverter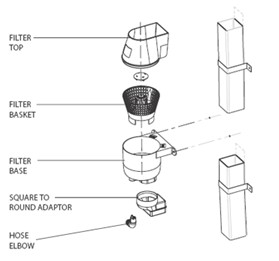 Guttermate
is designed to be fitted to standard
68mm round
or
65mm square
(using supplied square-to-round adapter) downpipes. A section of the downpipe must be cut out - either a 230mm length for square pipes, or 187mm for round - at just over the height of the maximum level of water in the
water butt
.
The Guttermate is then fitted to the two free ends of downpipe and fixed to the wall using the provided bracket, screws and wall plugs (a 6mm masonary drill bit is required).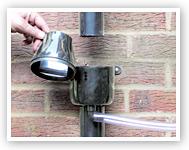 Instead of using
mesh
or a
bell type strainer
at the top of the downpipe where it meets the guttering, it is recommended instead to let all debris fall down the downpipe where it collects in the
filter
. This can be removed, cleaned, and refitted in just 30 seconds, and so it is no longer necessary to go up a
ladder
to clear blockages.
The Guttermate
filter
has two positions:
THRU
which sends all water straight down the drain pipe, and
TUB
which sends part or all of the water to the water butt.
Guttermate is available in
black
or
white
.
More Guttermate Information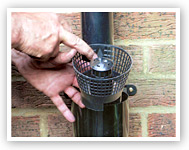 NEW - Click here to read the REUK.co.uk
GutterMate Review
.
For more information on
Guttermate
click here to visit the official
Guttermate website
. Click here to view the supplied
installation instructions
(PDF), or here for a photographic step by step
installation guide
.
Buy a Guttermate
Guttermate is available in the UK selection of online retailers. Best priced (at time of writing) is
Ethical Superstore
- click here to
buy Guttermate
now for
£22.95
.

Article Last Modified: 14:33, 17th Aug 2012
Comment on this Article
If you have any comments on this article, please email them to
neil@reuk.co.uk
.
---
Recommended Related Articles
People who read this article also enjoyed the following articles:
Rainwater Diverter
Use a rainwater diverter to send water collected in gutters to a water butt
Article Last Modified: 10:25, 30th May 2007
water
|
shopping
Solar Powered Irrigation
Water your garden or allotment with a solar powered irrigation system
Article Last Modified: 15:58, 12th Jun 2008
solar
|
water
Pumps for Irrigation and Rainwater Harvesting
Find out how to choose a submersible pump for irrigation and rainwater collection systems
Article Last Modified: 15:16, 19th Aug 2008
water
|
shopping
|
general
Make a Waterproof Temperature Probe
Find out how to make a waterproof temperature probe
Article Last Modified: 16:37, 1st Jun 2009
electronics
|
heating
|
water
12 Volt Deep Cycle Batteries for Solar
Buy deep cycle 12V batteries for small scale solar powered projects
Article Last Modified: 16:01, 7th Nov 2012
storage
|
shopping
Basic 4 AA Solar Battery Charger Plans
Make a simple solar charger for 4 AA rechargeable batteries
Article Last Modified: 09:43, 30th Jul 2007
solar
|
education
Shed and Garage Solar Lighting
Light your shed or garage with solar powered lighting
Article Last Modified: 16:47, 12th Nov 2008
lighting
|
solar
Review of GutterMate
A product review of the GutterMate rainwater diverter and filter
Article Last Modified: 14:33, 17th Aug 2012
water
|
shopping