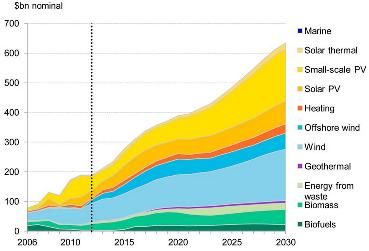 There are an every increasing number of companies listed on the London Stock Exchange relating to renewable energy. Here are a selection of these companies in no particular order (details last checked and updated February 2010):
D1 Oils (DOO.L)
Developing jatropha plantations in the developing world and biodiesel refineries.
Website: D1 Oils.
Renewable Energy Holdings PLC (REH)
Investors in the worldwide renewable energy market. Projects included wave power (CETO I and CETO II), wind power (wind farms in Germany and Poland), and a landfill gas powered power station in Wales. During 2009 CETO was sold to Carnegie Wave Energy Limited for 33% of the issued share capital of Carnegie, and the Bryn Posteg landfill gas site was sold in January 2010 to Sundorne Products (Llanidloes) Limited to generate general working capital (of £2-3 million). Now REH are focussing on wind assets in the UK and Europe with the goal to have an established 300MW portfolio and 1500MW in development projects by 2012.
Website: Renewable Energy Holdings.
Ocean Power Technologies (OPT.L)
Ocean Power Technologies are developing commercial scale wave power generators. They have been testing their PowerBuoy modular units for 10 years in the ocean. They now have a 36ft diameter utility grade 150kW PowerBuoy (PB150). A 1.39 MW wave farm is currently being installed off the coast of northern Spain in a joint venture with Iberdrola SA, with a 5 MW plant planned for UK water soon 17km off the coast of St. Ives. Ocean Power Technologies are listed on NASDAQ under the symbol OPTT.
Website: Ocean power Technologies.
Trading Emissions PLC (TRE.L)
Invest and trade in environmental and emissions assets.
Website: Trading Emissions.
Clipper Windpower PLC (CWP.L)
Manufacturer of the 2.5MW Liberty wind turbine generator and developer of wind power projects in the Americas and Europe. At the start of 2010 their portfolio totalled over 6,500 MW of wind capacity in the Americas.
Website: Clipper Windpower.
ITM Power PLC (ITM.L)
ITM Power develop hydrogen fuel cells with "low-cost low-carbon" hydrogen generated from renewable sources such as solar and wind power. They have over 50 staff and operate from Sheffield, UK. They are now also developing hydrogen storage solutions.
Website: ITM Power.
Rurelec (RUR.L)
Rurelec are building energy generation projects in Latin America (currently Bolivia and Argentina and looking to expand into Chile and Peru), particularly focussed on generation in rural areas and the electrification of areas currently off the grid system.
Website: Rurelec.
Renova Energy (RVA.L)
Renova Energy is an Ethanol producer based in USA. Share trading was suspended in 2007 due to the company encountering severe financial difficulties.
Website: Renova Energy.
Leaf Clean Energy Company (LEAF.L)
A company formed with the intention of purchasing and operating clean energy and renewable energy assets. Their portfolio currently includes Range Fuels Inc (producers of Ethanol using waste biomass), SkyFuel Inc (concentrated solar power), Miasolé (thin-film PV solar manufacturer), Energia Escalona (building a 9.3MW run of river hydro power plant in Mexico), Multitrade Rabun Gap (20MW wood-fuelled power plant) and Multitrade Telogie (14MW), Vital Renewable Energy Company (ethanol and electricity generation from sugar cane in Brazil), MaxWest (gasification of waste materials), Invenergy (utility scale wind generation facilities), and Johnstown Regional Energy (sells biomethane to gas utility companies).
Website: Leaf Clean Energy Company.
Renewable Power and Light (RPL.L)
Will purchase dual-fuel power plants in the USA ranging from 10MW to 200MW to power using biodiesel generated by equipment it owns (claimed 60 million gallon per year capacity).
Website: Renewable Power and Light.
Ceramic Fuel Cells (CFU.L)
Ceramic Fuel Cells (CFCL) is an Australian company (listed on London market) have developed a solid oxide fuel cell generator with an efficiency of 50% which uses natural gas as fuel.
Website: http://www.fuelcellmarkets.com.
Biofuels Corp (BFC.L)
Biofuels Corp are Biodiesel refiners. Their first biofuel processing plant, Teeside I, was opened in the summer of 2006 by the Prime Minister Tony Blair at Seal Sands. It had an output of 284 million litres per year and there were plans to open further plants and remain one of Europe's leading biodiesel producers. However in November 2009 the 75 workers at the refinery were sent home 'indefinitely' and the refinery was shut down. Was delisted from AIM in 2007 and is now 100% owned by Barclays (debt-for-equity swap).