blueEnergy
provide sustainable low-cost energy generation equipment to underdeveloped communities in Mexico and Central America particularly focussing on
wind
and
solar
energy systems.
In July 2004 in Venata, Oregon, USA, blueEnergy built a fully functional DIY wind turbine generator using a mixture of salvaged and new parts to show at the Oregon Country Fair. This beautiful machine was constructed using a Hugh Piggot inspired design.
Building a Wind Turbine Generator – in Photos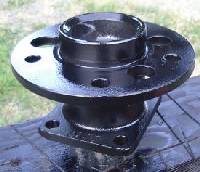 The wind turbine is based around a salvaged wheel hub (pictured above) costing around $10 which was then sand-blasted and painted.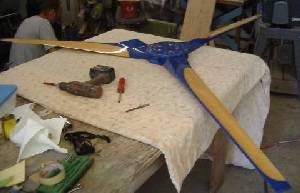 The three wooden wind turbine blades were carved, planed, and sanded using hand tools and basic power tools – a slow process, but well worth the effort for results as good as these (pictured above). Clear varnish and a beautiful blue paint job make this blade assembly look fantastic. The three blades are joined together by a wooden rotor disk.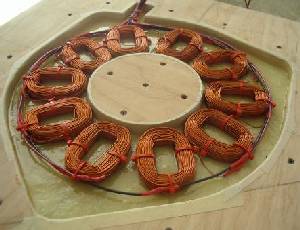 The five-phase permanent magnet alternator was also a DIY effort with the stator comprising of 10 coils each with 160 turns of enamelled wire, and the rotor of 12 neodymium magnets stuck to a steel rotor disk. The stator and rotor were both set in resin to protect them from the elements.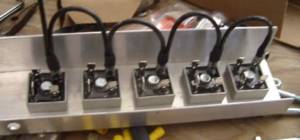 A 5-phase bridge rectifier was built fitting five 35 Amp bridge rectifiers to an aluminium heat sink. This bridge rectifier is shown above with the individual bridge rectifiers connected to one another ready to be connected to the 5-phase output from the wind turbine alternator.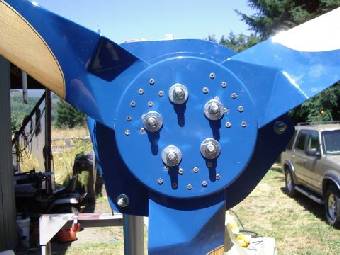 A lot of metalwork and a bit of assembly later and the blueMachine wind turbine was completed and ready for its first spin.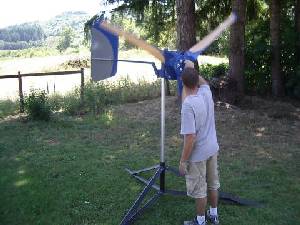 View The Full Story of the blueEnergy Wind Turbine
The full photographic record of the building of the wind turbine from start to finish is documented on the following two pages: Page 1 | Page 2 (NO LONGER AVAILABLE – BlueEnergy have moved their website.
blueEnergy
Updated June 2013 – To find out more about blueEnergy and their philosophy of local people, local materials, local energy click here. If you would like to make a donation to blueEnergy to help them continue their excellent work, click here.